The Dole Whip can be purchased alone or as a 'float' with pineapple juice. It's so popular that the lines to get one are often longer than the lines at some attractions. On average, 1.3 million are purchased per year at Disney Parks and Resorts.   At Disneyland alone, 600,000 are purchased a year! Its fruit flavors are vegan and has always been gluten free.
Soft serve frozen dessert made with crushed pineapples, lemon juice, and lime juice
Photo courtesy of Kylie Healey
* This is not an official Disney recipe but rather a very close replication.
Ingredients
2 20 ounce cans Dole crushed pineapple with juice
2 tablespoons lemon juice
2 tablespoons lime juice
1/3 cup sugar
1 and 1/2 cups heavy whipping cream, whipped
Instructions
Drain pineapple; reserve 2 tablespoons juice. Set aside.
Place pineapple, lemon juice, lime juice, sugar and reserved pineapple juice in blender or food processor container; cover and blend until smooth.
Pour into two 1-quart freezer zipped bags and store bags flat in freezer.
Freeze 1-1/2 hours or until slushy.
Stir pineapple slush gently into whipped cream until slightly blended, in large bowl.
Return to freezer until completely frozen, about 1 hour.
http://www.magicalrecipes.net/aloha-isle-dole-whip-recipe/
How To Make A Dole Whip Like Disney In Your Own Home!
If you really want a more authentic dole whip recipe like the ones served at Disney you can always do the following:


Step 1: Buy the Dole® Soft Serve premade mix like Disney uses.

Step 2: Buy a soft serve ice cream machine. This Cuisinart ICE-45 Mix It In Soft Serve 1-1/2-Quart Ice-Cream Maker is a good choice. It is a fully automatic soft-serve ice-cream maker with a double-insulated freezer bowl. It produces 1-1/2 quarts of ice-cream in just 20 minutes; no chemicals, salt, or ice required. Also the handle makes ice cream swirl out like with an authentic soft-serve machine. 

Step 3: Make the soft serve treat. One bag of this mixture makes about 2 gallons of Dole Whip. That's obviously a lot to consume in any one sitting. So you'll want to scale it down for your soft serve ice cream machine. The proportions to make 1 quart would be 2 cups of water and 1 3/4 cups of the dry mix. Fill a bowl with the cold water then add the appropriate amount of Dole® Soft Serve mix while stirring with a wire whisk until mix is completely dissolved (about 2 minutes). Pour the mixture into your soft serve machine. If you make 1 quart at a time you will have enough mix in one bag to make these 8 times. The case comes with 4 bags so that's a whopping 32 1 quart servings!
Go On a Crawl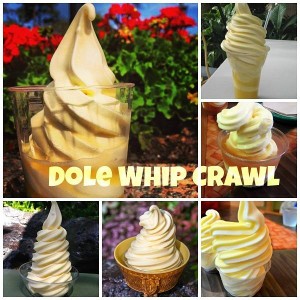 If you're familiar with a pub crawl you know that the general premise is taking a tour of several pubs or bars and having one or more drinks at each.  I've taken that concept to the Dole Whip and created a Disney World Dole Whip Crawl for those interested. Sample the different variations of the soft serve treat throughout Disney World on this crawl. Whether it be the traditional whip in a bowl or one with a little alcoholic kick to it, you'll come away a connoisseur of one of the most revered Disney treats.  Each one on the list is slightly different so you can crawl your way around the world comparing and contrasting them from each place.  Just don't drink too many of the alcoholic variety or you may actually be crawling to get to the next one.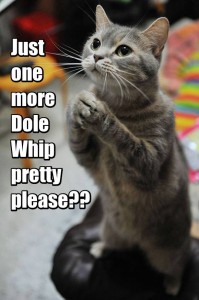 Where They Can Be Found
Aloha Isle – Located in Adventureland in Magic Kingdom you can get yourself a soft serve in p

ineapple, vanilla, orange or swirl ice cream or get a Pineapple Float which is your 

Pineapple Dole Whip combined with pineapple juice.

Pineapple Lanai – A window in the courtyard of the Polynesian Village Resort would be the new place to satisfy your cravings as the self-service machines at Captain Cook's have been removed. The options include soft serve, a swirl, or a float. All can be served in a souvenir Tiki Bowl or Sipper.  Also of note is that this is not a self-service location like Captain Cook's so no more filling up your dish sky high with Dole Whip and going back for more 24 hours a day.
Tiki Juice Bar

 – Located in Disneyland, not only can you get a whip or a Pineapple Float but you can also get a Dole Fruit Bowl or just plain ole' Dole Pineapple Juice.

Tamu Tamu – Located in Disney World's Animal Kingdom, this location serves the classic pineapple Dole Whip: no swirls and no floats.  On the plus side if you're an adult you can get a shot of dark rum or coconut rum in it!
Bleachers – Located at Disney's Vero Beach Resort, this location serves vanilla, pineapple and orange Dole Whips.
Signals – Located at Disney's Hilton Head Island Resort, this location serves vanilla and pineapple versions.
Lava Shack – Guests can choose from Pineapple, Vanilla, or Pineapple-Vanilla Swirl at this location at Disney's Aulani Resort.
Dole Plantation – If you happen to be in Hawaii for your next trip, stop by the 

 The Dole Plantation for a Dole® Soft Serve.  Just another excuse to visit Hawaii.

Menchie's – With locations worldwide, Menchie's serves the same Dole Whips that you would find in the Disney parks.  You'll want to call ahead to see if the pineapple flavor is available as flavors rotate often.
St. Louis Zoo – Available at the entrance to the River's Edge.  Not only available in the usual pineapple variety but raspberry as well!
Karen's Dairy Grove – Located in North Ridgeville , Ohio, Karen's Dairy Grove has two different Dole flavors a week in the months of June, July and August
Urban Culture – This frozen yogurt shop is located in Pleasant Prairie Wisconsin has pineapple and on occasion orange versions of the delicious frozen treat.
Pineapple Park – If you happen to be in Las Vegas do not let this secret stay in Vegas.  Pineapple Park offers 7 Dole Soft Serve flavors to choose from.
Coconut Froyo – This frozen treat store in Allen, TX serves it up in pineapple and orange flavors with floats in actual coconut cups!
Noah's Ark Water Park – This water park in Wisconsin Dells, Wisconsin serves the signature Dole Whip float at the Dole Whip Oasis
Farr's Fresh – With seven locations throughout Utah, Farr's Fresh provides its customers with both pineapple and raspberry versions of this frozen favorite.
Six Flags – Yes, another major theme park sells Dole Whip!