The famous giant caveman style turkey leg
* This is not an official Disney turkey leg recipe but rather a very close replication.
Ingredients
Turkey Legs

8 turkey legs

Brine

1 gallon water
1 C. kosher salt
1/2 C. sugar
2 Tbsp onion powder
1 Tbsp garlic powder
1 Tbsp chili powder
1 Tbsp paprika
1 Tbsp ground pepper
1 tsp rubbed sage
1 tsp ground cumin

Spice Rub

3 Tbsp onion powder
2 Tbsp paprika
1 Tbsp garlic powder
1 tsp ground pepper
1 tsp ground cumin
1/2 tsp rubbed sage
3 Tbsp vegetable or light olive oil
Instructions
Rinse turkey legs in cold water, pat dry.
For brine, combine brine ingredients in large pan.
Bring to a boil.
Remove from heat, cover, and let cool to room temperature.
Pour into container and refrigerate brine until cold (approximately 35-40 degrees F).
Place the turkey legs into brine.
Let soak four to six hours.
Remove legs, rinse well, and discard brine.
Dry drumsticks well with paper towels.
In small bowl, combine spice rub ingredients with fork til well mixed.
Rub onto turkey legs.
Let drumsticks sit out for about one hour.
Place turkey legs into smoker at 225 degrees F.
A light-flavored wood is best for turkey.
Smoke legs for four to six hours, til meat is nearly falling off the bone.
Remove legs from smoker, and let rest for half an hour.
http://www.magicalrecipes.net/food-cart-magic-kingdom-turkey-leg-recipe/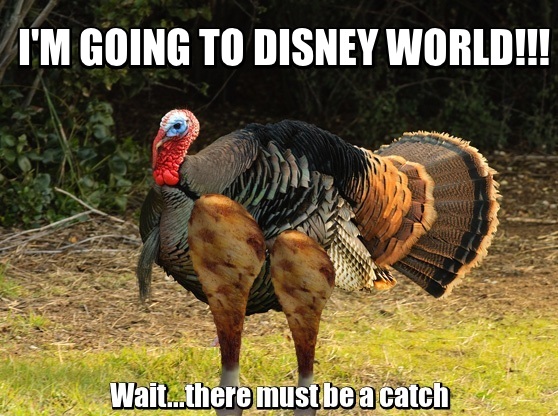 Disney turkey legs history
Giant Disney turkey legs were first introduced at Disney World the 1990s, and became such a popular item that they were quickly introduced to the other parks. They originally turkey legs started out around 22-ounces and today they average about 34 ounces . More than 1.6 million turkey drumsticks are consumed at the resort every year, and you can even buy all sorts of gear (t-shirts, hats, magnets, etc.) with pictures of the iconic leg on them.

There is an
urban legend
that these giant turkey legs are actually Emu legs.  However, make no mistake they are indeed turkey legs.  They just happen to come from very, very large turkeys. Since the birds weigh in around 50 pounds, their legs have to be gargantuan just to support them. They're also smoked, which isn't a common way of preparing turkey, so the flavor is unfamiliar to many guests.